COLLOQUE FEAM
ADOLESCENT HEALTH: INVESTING IN THE FUTURE

The Academy of Medicine Foundation (FAM) took part, along with the National Academy of Medicine, the FEAM (Fédération Européenne des Académies de Médecine [Federation of European Academies of Medicine]) and the Fondation Singer-Polignac [Singer-Polignac Foundation], in the organisation of a joint symposium in Paris on 13 May 2015. The main theme of this meeting was "Adolescent Health: investing in the future" and it was composed of two sessions: mental health in adolescents and obesity. This theme was mainly chosen because it is a current problem affecting all European countries, and brings together multiple aspects, from psychological disorders and addictions, to lifestyle and the prevention of infectious diseases.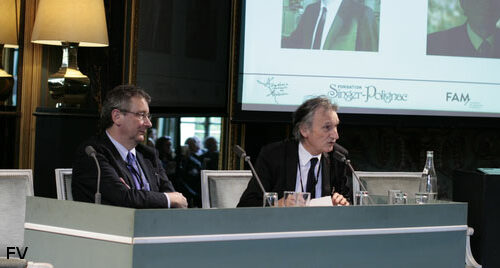 It seemed necessary to compare the attitudes of our various countries in this respect and to inform the European Union authorities of their recommendations. Indeed, with the ease of travel and the expansion of digital communication means, the problems are identical and the measures to be considered must now be EU-wide.
The Foundation's involvement included logistics, communication on the website (gathering information on interventions), financial support and the organisation of a dinner at the Hôtel des Arts et Métiers.
In addition to put the European spotlight on its actions, participating in this event also allowed the FAM to witness the election of the FEAM President: Bernard Charpentier (also Vice-President of the Foundation).